Esperanto
languages
| arabic |
spanish
| mandrin | japanese |
tokipona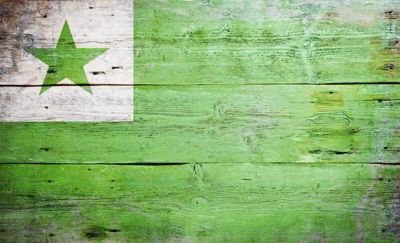 Esperanto is a wonderful language that I have been studying for a few years now.
Like all language learning projects, its a little hard going, especially when
no one
around you speaks it and everyone thinks your
crazy
for just trying!
However I have fallen a little in love with the
malgranda lingvo
.
I am working (very sporadically) on a few projects in Esperanto. You can find my articles and translations below
Esperanto es mirinda lingvo ke mi studas por kelkaj jaroj nun.
Kiel ciuj lernlingva projektoj, gxi esta malgranda dura, precipa kiam neniu cxirkau vi parolas gxin kaj cxiuj pensas ke vi estas freneza.
Projektoj
Why Esperanto?
Esperanto was originally 'invented' by a Polish man by the name of Dr. Zamenhof to solve a particular problem} be continued.....
Links
http://thevikidtruth.com/5000/?esperanto